Roasted Veggies & Garlic For Pasta (rustic sauce).
According to all people, cooking is indeed something which is quite simple. Besides they are indeed happy cooking and have ability cooking that is quite, they are also good in mixing each dish so that it becomes dish yummy. But there are those who cannot cook, so they must ask and see recipes that are cushy to follow.
The end of the day extenuation often boost you over the edge and into a drive-thru window. But truthfully, there are some really quick and easy recipes here to help you get a delectable and ideal meal on the table in no time.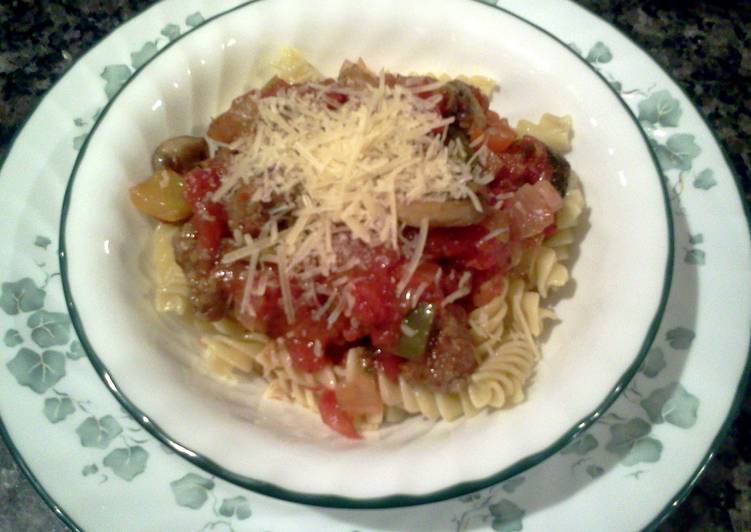 You can cook Roasted Veggies & Garlic For Pasta (rustic sauce) using 15 ingredients or wanting. Here is how you achieve it.
Ingredients of Roasted Veggies & Garlic For Pasta (rustic sauce)
Provide 1 of 16oz Rigitoni Pasta.
You need 1 lb of Sweet Italian Sausage.
Prepare 1 of Roasted Head of Garlic.
You need 8 of Fresh Basil Leaves – minced.
You need 5 cup of Diced Tomatoes with Basil, Garlic and Oregano.
Provide 3 each of Fresh Tomatoes – peeled, seeded and chopped.
Prepare 8 oz of Sliced Fresh Mushrooms.
Prepare 2 of Stalks Celery – chopped.
Provide 1 of Onion – chopped.
Provide 1 of Summer Squash – chopped (like zucchini, crook neck & patty pan).
Prepare 1/2 each of Green, Red, Yellow & Orange Bell Peppers – chopped.
You need 1 tsp of Sugar (combats tomato acidity).
Prepare 1 of Fresh Grated Parmasean Cheese.
Provide 1 tsp of Each Salt & Pepper.
Provide 1/3 cup of EVOO (extra virgin olive oil).
These recipes make in much 80 minutes from embark to finish, and 5 actions. Get ready to keep up these recipes to get you thru a strenuous back-to-school tide!. Here is how you make it.
Roasted Veggies & Garlic For Pasta (rustic sauce) instructions
Preheat oven to 450°F. Combine fresh tomatoes, mushrooms, celery, squash & onion in a large bowl. Add EVOO and toss to coat. Spread evenly over 2 cookie sheets. Sprinkle with the salt & pepper. Roast for 20 – 30 minites until done. Set aside..
While veggies are roasting, remove casings from sausage and brown in a pot, breaking up pieces into bite size chunks..
Add roasted garlic, basil, sugar & the canned tomatoes..
Mix in roasted veggies and simmer for 1 hour..
Prepare pasta according to package directions. Top pasta with veggie mixture and a sprinkling of cheese..