Chicken Chickpea Coconut Curry.
Create all people, cooking is indeed work which is quite simple. Besides they are indeed happy cooking and have ability cooking that is very good, they are also creative in processing each dish so that it becomes dish luscious. But there are those who cannot cook, so they must ask and see recipes that are simple to follow.
The end of the day maceration often boost you over the edge and into a drive-thru window. But actually, there are some really quick and easy recipes here to help you get a luscious and ideal meal on the table in no time.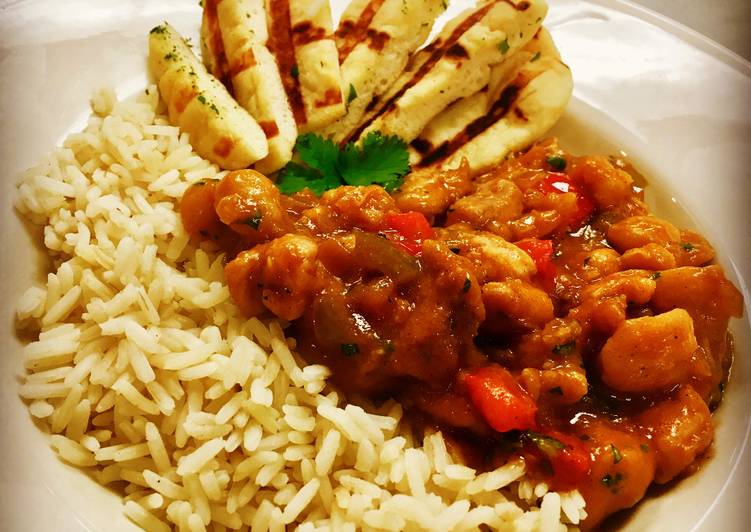 You can have Chicken Chickpea Coconut Curry using 22 ingredients or less. Here is how you cook it.
Materials of Chicken Chickpea Coconut Curry
You need 1 Lb. of Chicken Thighs, Trimmed And Cut Into 1 Inch Pieces.
Prepare 1/2 Cup of Corn Starch.
You need 1 of teaspoon- Salt -First.
You need 1 teaspoon of Curry Powder -First.
You need 3 tablespoon of Oil- First.
Provide 1 tablespoon of Oil- Second.
Provide 1/2 of Onion, Chopped.
Prepare 1/2 of Red Bell Pepper – Diced.
Provide 1/2 of Green Bell Pepper Diced.
Prepare 1 of Tomato -Diced.
You need 1 of Jalapeno-Diced (If you want more spice add the seeds:).
Provide 4 Cloves of Garlic, Chopped- Fine.
Provide 2 teaspoon of Garam Masala.
Prepare 1 1/2 teaspoon of Salt- Second.
Provide 1-1 1/2 teaspoon of Curry Powder- Second.
Prepare 1/2-1 teaspoon of Chili Powder.
You need 14 of -Oz. Coconut Milk.
You need 6 of -Oz. Tomato Paste.
Provide 16 of -Oz. Chickpeas, Drained And Rinsed.
Provide 1 cup of Chicken stock.
Provide 1/3 C. of Chopped Fresh Cilantro – Lightly Chopped Just Before Adding Them- No Stems.
You need 2 C. of Cooked Rice, For Serving.
These recipes make in much 40 minutes from start to finish, and 6 strides. Get ready to follow these recipes to get you thru a busy back-to-school monsoon!. Here guides how you achieve that.
Chicken Chickpea Coconut Curry hint
1. Mix the cornstarch the first salt and first curry powder together and lightly coat the diced chicken. Shake off the excess coating..
2. In a large skillet over medium heat, add 3 tablespoon oil. Add the diced chicken thighs cook until lightly browned about 3 minutes per side, then remove chicken from pan and set aside..
3. In the same pan Add remaining tablespoon oil, onion, red bell peppers, green bell peppers,tomato, jalapeno and garlic. Cook until they are soft, about 4 minutes.
4. Stir in Garam masala, the second salt, the second curry powder, and chili powder, then add coconut milk, tomato paste,chickpeas and chicken stock. Add the chicken back in and stir until combined and bring to a simmer for about 8-10 minutes..
6. Sprinkle in the lightly chopped cilantro just before service with rice..
Note this did not come out spicy hot so if you like fire then feel free to bump it up. This tastes really good!.