Easy Sweet & Spicy Thai-Inspired Maple Glazed Salmon.
Share some people, cooking is indeed work which is quite easy. Besides they are indeed hobbies cooking and have ability cooking that is quite, they are also good in integrating each dish so that it becomes dish luscious. But there are those who cannot cook, so they must learn and see recipes that are simple to follow.
The end of the day exhaustion often drive you over the edge and into a drive-thru window. But really, there are some really quick and easy recipes here to help you get a luscious and ideal meal on the table in no time.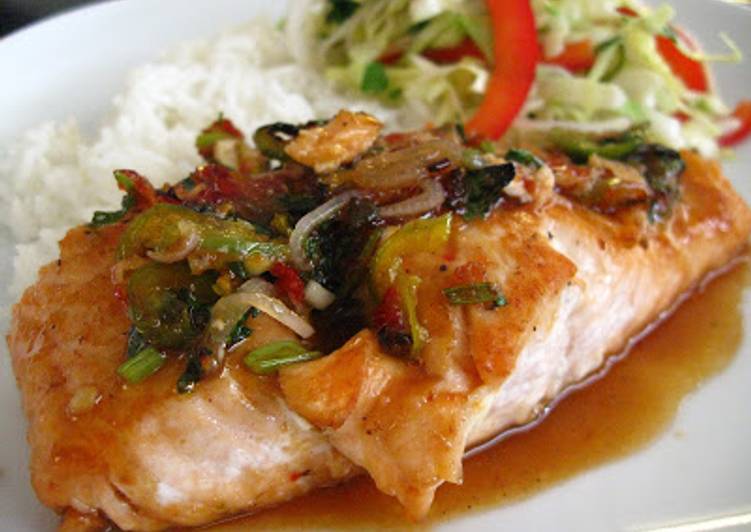 You can cook Easy Sweet & Spicy Thai-Inspired Maple Glazed Salmon using 13 ingredients or pinched. Here is how you achieve it.
Ingredients of Easy Sweet & Spicy Thai-Inspired Maple Glazed Salmon
Prepare 1 of roughly 1.75 pound salmon fillet.
Prepare of salt & pepper to season.
Provide 1 Tablespoon of oil for searing salmon.
Prepare 1 of large clove garlic, minced (just under a Tablespoon).
Provide 2 Tablespoons of shallots, thinly sliced.
Prepare 5-7 of stems cilantro, chopped (stems and leaves).
Prepare 1/2 of a jalapeno, thinly sliced (or if you like hotter chilies, you can certainly use another kind).
Provide 1 Tablespoon of oil for the glaze.
Provide 3 Tablespoons of maple syrup.
Provide of the zest of half a lime.
Provide 2 teaspoons of chili garlic paste (I use Huy Fong.).
Prepare 1 Tablespoon of lime juice.
You need 1.5 teaspoons of fish sauce.
These recipes cook in roughly 70 minutes from initiate to finish, and 7 actions. Get ready to take these recipes to get you through a occupied back-to-school tide!. Here is how you achieve it.
Easy Sweet & Spicy Thai-Inspired Maple Glazed Salmon steps by step
Preheat the oven to 400F and prepare an oven safe dish or baking sheet to bake the salmon in. I like to line the dish with foil for easy removal and cleanup..
Season the salmon on the flesh side with salt and pepper..
In a medium bowl, combine all glaze ingredients and stir to mix thoroughly..
In a non-stick pan, bring the 1 Tablespoon oil up to medium high temp and sear the salmon fillet for 2 minutes per side. I sear because because I like a crust on my fish, but if you don't care for it or don't have time, just rub the flesh side with a little bit of oil and go to the next step..
Transfer the salmon to your oven-safe dish, skin-side down, and pour the glaze evenly on top..
Bake the salmon on the center rack for 7 to 10 minutes, depending on how done you like your fish (the full 10 minutes if you didn't sear), then turn the oven to broil and place the salmon about 5 inches under the broiler and broil for another 4 or 5 minutes to caramelize the glaze. You can serve the whole fillet family style, or portion it out with a knife or spatula, pulling the flesh away from the skin..
Enjoy!.